Medway is a powerful and scalable media-centric middleware solution, enabling a complete digital workflow to ensure edit platforms, MAMs, video servers and archive systems work seamlessly together. It's used globally by broadcast, production, post production, newsrooms and playout facilities, integrating incompatible systems, media and metadata between multiple systems.
Key Features
Medway can be used to replace old Avid Transfer Manager systems, offering cost-savings and performance improvements

Supports complex workflows, seamlessly integrating advanced metadata processing and exchange between systems

Ultra-fast processing makes transcoding, re-wrapping, audio matrixing and VANC handling quick and reliable

Automatic hardware fail-over, efficient throughput control and expandable bandwidth
Features comprehensive diagnostics

Medway connectivity with multi-vendor workflows simplifies the deployment of new workflows and avoids complex bespoke integrations

Medway support of cloud storage enables workflows to be spun out into the cloud through MEWS, the Medway Engine Web Service

Features a very large off-the-shelf integration library that can be easily extended to support new vendors

Medway is actively developed by Marquis Broadcast and has a strong future roadmap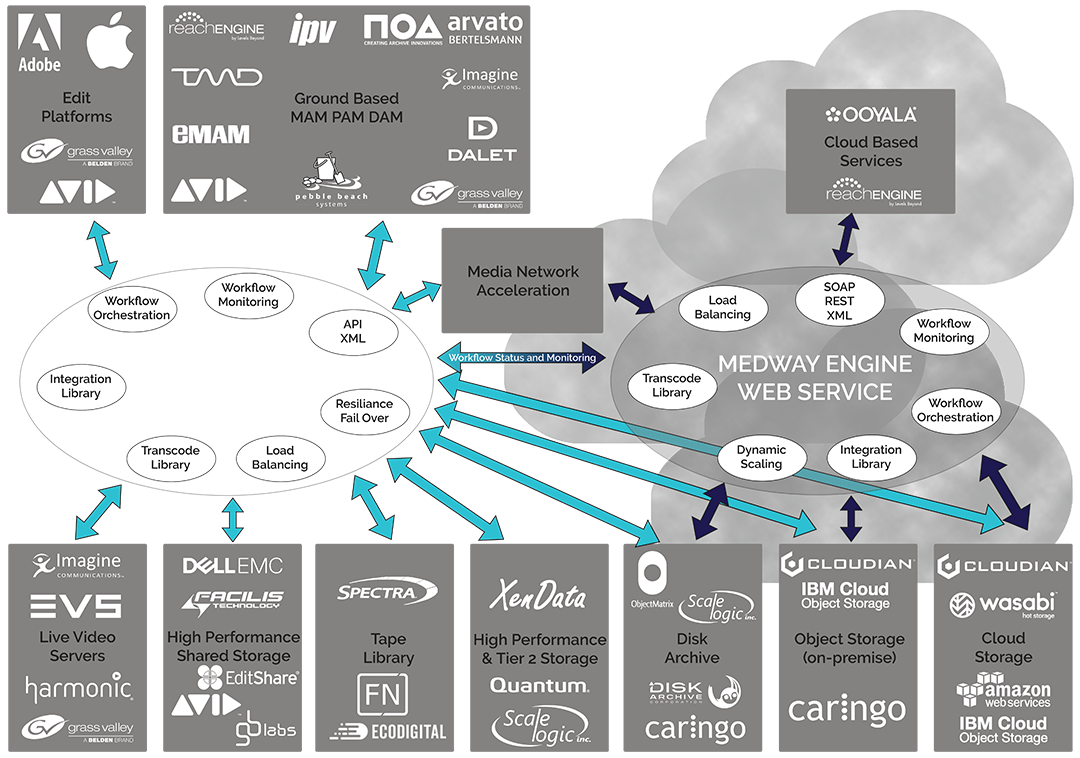 Hybrid Cloud Workflows
Every broadcaster, post house or service provider is different. So our integrations are with the majority of professional media applications.
We are continuously adding new integrations and maintain the most sophisticated and comprehensive library of 'off-the-shelf' integrations.
We also host many of the key applications and technologies in our UK labs for interoperability testing.
Replacement for Avid Transfer Manager
Medway is an excellent plug-and-play replacement for old Avid Transfer Manager systems, offering immediate cost, operational and performance benefits. It simplifies Avid workflow complexity by use of the world's largest library of certified workflow and metadata integrations. This enables clients and integrators to build out the precise workflows they need, including complex migrations from legacy production, transmission and DAM systems to new and contemporary systems.
Cloud integration
Many broadcasters plan to use cloud storage in the future – either public or private – but struggle to understand how it would link to their existing on-site workflows. Medway offers integration between incompatible systems in media production workflows and is now cloud-enabled too, bringing the richest set of legacy and contemporary integrations to cloud and hybrid workflows.
Re-linking and archiving Avid projects
Two clever Medway workflows have been recently developed by Marquis Broadcast and are currently in use by large broadcasters. These enable relinking, integrating and archiving of Avid projects; especially useful between a main facility and remote editors.
The Marquis Medway team were very helpful every step of the way, assisting us with seamless setup and testing. This system is a perfect addition to our workflow.
Transition to IP
Over the past ten years, the demands on media production infrastructure have expanded exponentially, especially with the transition to IP-based workflows. Marquis Broadcast's goal is to help facilities improve the efficiency and ease of digital workflows. It achieves this through cost-effective integration between leading broadcast content applications, ensuring products such as edit platforms – either standalone or using shared storage – and third-party MAMs and automation systems can work seamlessly together.
Multi-vendor and legacy workflows
Businesses require highly-agile, fast multi-vendor interconnected workflows, plus need to adapt to new standards and file types, such as UHD and HDR, along with using cloud technology. The snag is how to easily integrate legacy infrastructure into the new workflows and make existing workflows more efficient and effective.
Medway works by transferring media and metadata from a source system to a destination one, although the workflows can be far more complex. The source system can be one of many different manufacturers' systems or storage, such as a Media Asset Management system, automation system or the Avid Interplay PAM. Medway talks directly to the source system, often using an API such as Interplay Web Services. It minimises the load on the source system by taking the media from it in its native format and handling all the processing on its own servers. It also accelerates and reduces the risks inherent in deployment of future integrations, including hybrid cloud/ground workflows.
MEWS – Medway Engine Web Service
Medway enables workflows to be spun out into the cloud through MEWS, the Medway Engine Web Service. Once Medway is deployed, it enables a world of media-centric connectivity, making the deployment of new workflows as easy as integration to legacy workflows. The cloud compute-hosted MEWS brings the power of Medway to the cloud and offers a simple and fast way to deploy hybrid cloud/ground integrations.
Want to be kept informed of product updates, promotions and news on upcoming events?